Clients of 190 brokers already use virtual hosting in MetaTrader platforms
We are actively developing MetaTrader Virtual Hosting service by increasing the amount of data centers, and minimizing network latency to broker servers. This attracts traders seeking appropriate conditions for continuous operation of their robots and signal subscriptions. In a recent study, we found that clients of 190 brokers already use the service and rent virtual MetaTrader 4 and MetaTrader 5 copies.
The most important factor when choosing a VPS service is a ping to a broker's server. The lower its value, the higher the trade execution speed. We pay the utmost attention to this parameter and strive to minimize network delays. Our study shows that the majority of our service users have the ping to a broker of less than 2 ms.
More good news – this week we have launched a new virtual hosting data center in Moscow. Now, traders can rent a virtual copy of their platform with minimum delays to broker servers located in Russia.

This is the eighth data center for MetaTrader 4/5 virtual hosting:
Amsterdam
Frankfurt
London
New York
Dallas
Hong Kong
Singapore
Moscow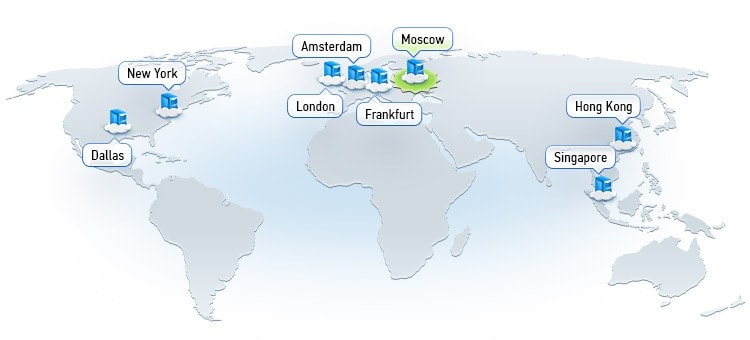 Thousands of traders all over the world already use MetaTrader 4/5 virtual hosting. Its advantages are obvious: The service has been designed with traders' needs in mind and is available for rent from the platform. Renting a virtual MetaTrader copy allows you to trade efficiently without worrying about your Internet connection speed, PC malfunctions, or energy supply failures. In short, this is the best option for a trouble-free robot operation and copy trading. The service is indispensable whenever non-stop trading is a critical requirement.
The process of renting a virtual platform is simple and takes just a few clicks directly from MetaTrader 4 or MetaTrader 5 trading platforms. You can test the virtual hosting and assess the ping to your broker's server right now, since the first 24 hours of the service are free of charge. Do you actively use trading robots and signal subscriptions? Then this service will assist you greatly.

Rent the virtual MetaTrader right now, launch the platform copy, and check out the built-in hosting service performance!