The public interfaces allow you to establish connection between your MetaTrader 4 and any other application. Integration options are almost endless - you can transmit any data from the platform and pass control commands from a third-party application.
Integration into other systems and applications
For example, by integrating the platform and the CRM system, you can receive a ready-made business solution providing an entirely new level of functionality. The interfaces allow you to pass any information about a trader to third-party applications. You can have a detailed information about customers and their trading results directly in your customer relationship management system. Depending on a customer's activity, you can automatically send them, say, an advertising email without leaving the system.

Moreover, you can manage your trading platform right from the CRM system. With an appropriate integration solution, you can remotely re-launch a trade server, enable a quote feed or create an account for a new customer.
The MetaTrader 4 API allows you to arrange the two-way communication with any other business application improving usability, cutting your costs and providing brand new opportunities.

Plugins for functionality expansion and automation
MetaTrader 4 is a powerful and functional platform. However, you can make it even more versatile. You can automate some operations or expand the functionality depending on your business needs.
For example, you can develop a special plugin on the Report API that automatically generates reports for your regulator. Or you can create an additional module that connects to any online payment system and automatically deposits funds to your traders' accounts.
News and quote feeds
MetaTrader 4 allows you to transmit quotes and news from any provider. All you need to do is to launch an appropriate feed and make minor adjustments. After that, the platform automatically passes the provider's data to the client terminals in real time.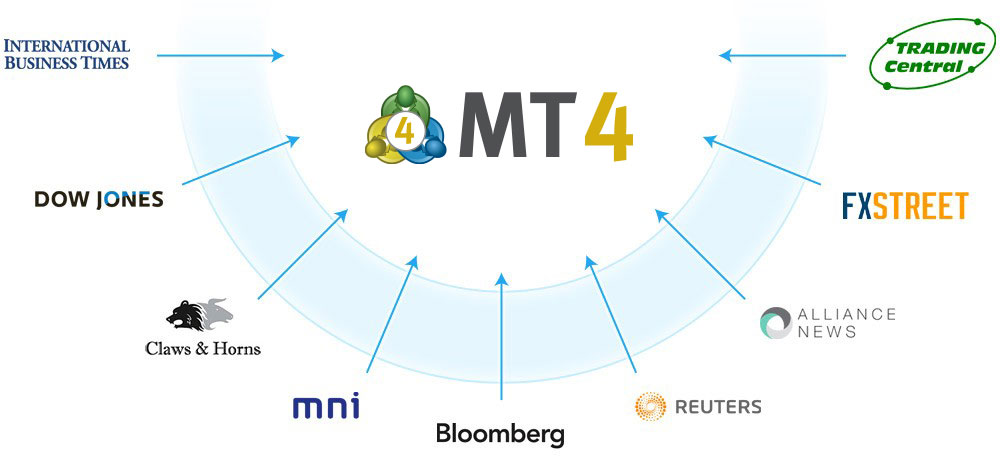 Feeds are gateways connecting the platform with quote and news providers. This is a rather simple plugin that brings data of different formats to the MetaTrader 4 platform standards.
We have already created the feeds for the majority of the most reputable quote and news providers, so that you can simply enable them in your platform. If you need data from some other provider, this is not a problem either. With MetaTrader 4 API, you can easily create your own feed and connect the platform with the required provider.
Move to MetaTrader 5
The MetaTrader 4 trading platform licenses are no longer available for purchase. We focus our efforts on the development of MetaTrader 5, and further conceptual updates will only be released for this multi-asset platform.