MetaTrader 4 Strategy Tester is designed for testing and optimizing trading robots before using them in real trading. It is based on historical quote data. During the test, a trading robot analyzes available quotes performing virtual transactions in accordance with its algorithm. This allows you to evaluate how the Expert Advisor would have traded in the past and simulate its behavior in real trading.

The built-in Optimization function allows you to select the most efficient parameters for obtaining the best trading results. For example, you can set the trading robot parameters so as to achieve maximum profit, to minimize risk and so on.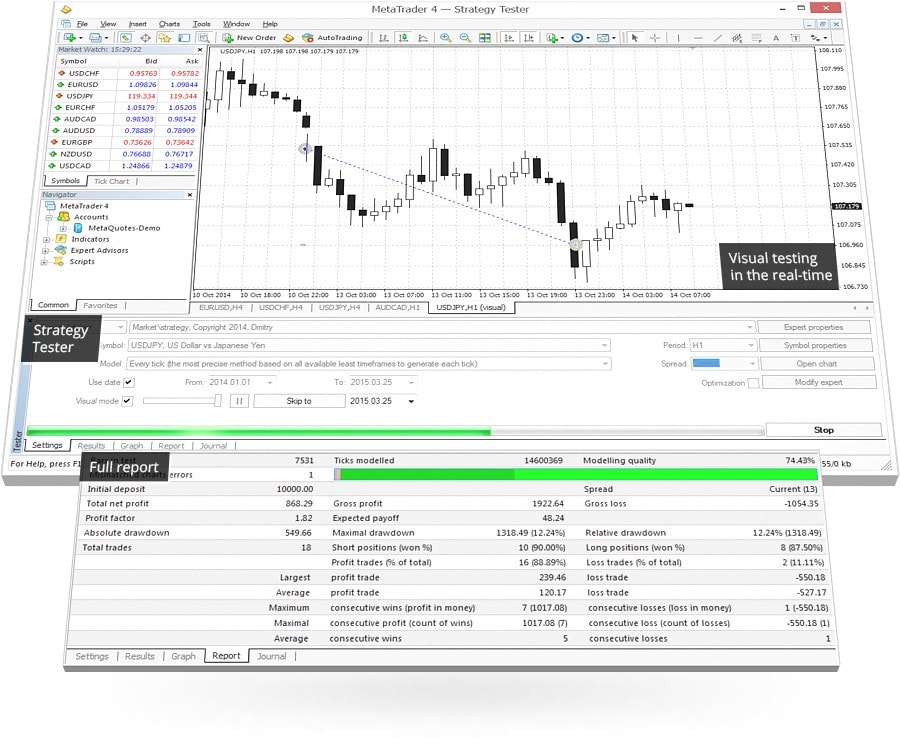 Visual testing in the real-time mode uses the chart window to demonstrate how an Expert Advisor performs trading on historical data. Upon completion, the tester provides you with a full report containing both graphical and quantitative results. This makes strategy analysis even more convenient. In addition to data on profits, the tester shows information on profit/loss percentage ratio, amount of profitable and loss-making trades, risk factor and so on. Analyzing obtained results helps you detect possible flaws in the robot's trading strategy and adjust the EA parameters.
The main advantage of testing a strategy is the ability to quickly assess the robot's performance without using it in real trading. Besides, it saves time, as a test takes only a few minutes, while it would take several days or even months to evaluate a strategy in real trading.
Test your trading robot before launching it on live trading and ensure the efficiency of its trading strategy!
Download MetaTrader 4 and test your robot in the Strategy Tester