MetaTrader 4 is the most popular trading platform for trading Forex financial instruments. Having an impressive functionality, the platform is suitable for traders of all skill levels. MetaTrader 4 is a flexible trading system that offers advanced tools of technical analysis, Trading Signals, a Market of trading robots, mobile and algorithmic trading and much more. Use all these features for success in your Forex trading!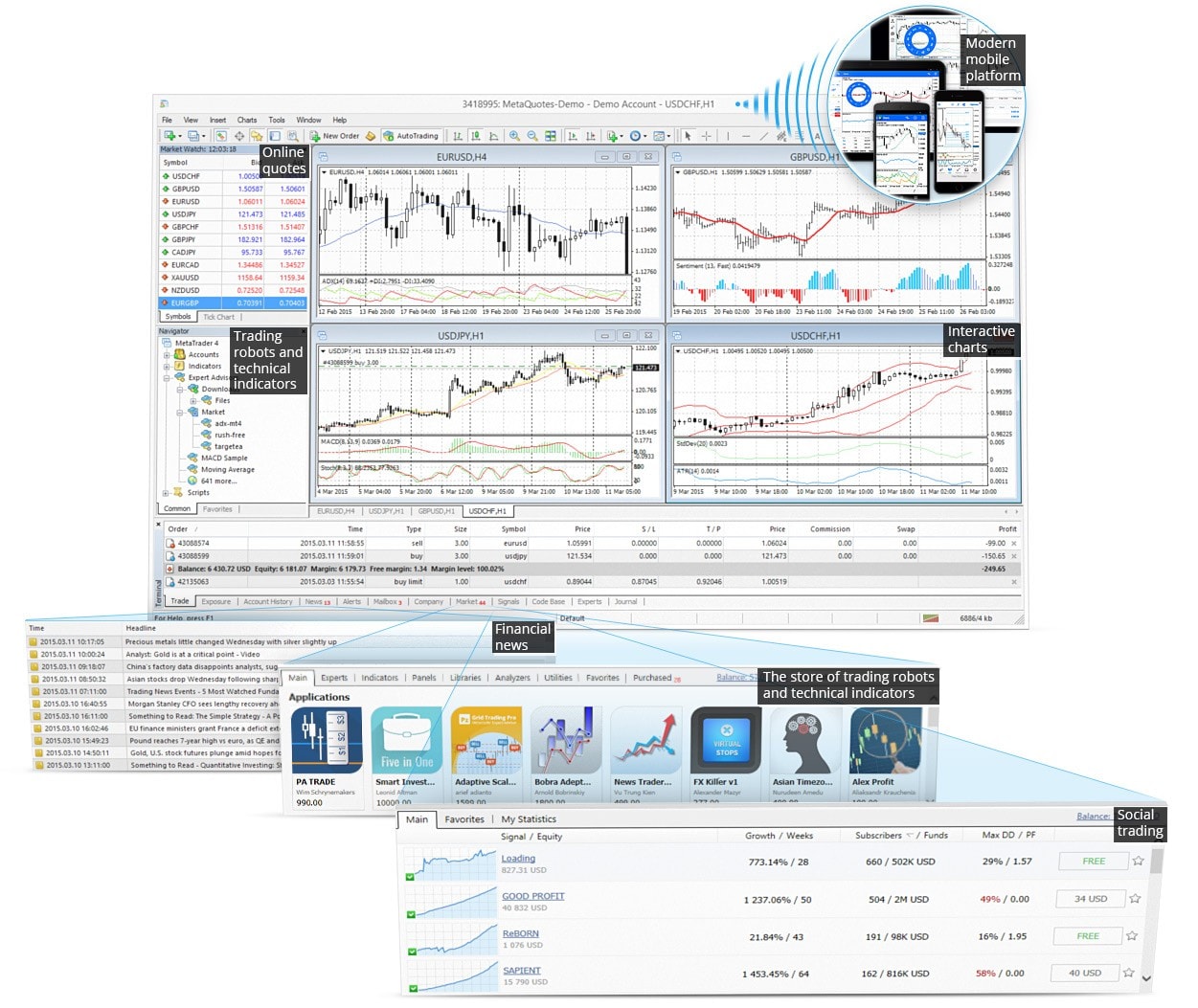 The Foreign Exchange (Forex) Market
Forex is a global currency trading market surpassing all other financial markets by its trading volume. Every day, banks, funds and private investors buy and sell different currencies equivalent to trillions of dollars, and this figure is growing. Forex trading is conducted via global information networks 24 hours a day.
The following currencies are considered the most popular in Forex: USD (United States dollar), JPY (Japanese yen), GBP (Pound sterling), EUR (Euro), CHF (Swiss franc), CAD (Canadian dollar) and AUD (Australian dollar). The most popular currency pairs for trading in Forex are EUR/USD, GBP/USD, USD/JPY and USD/CHF. These are the so-called majors — exchange rates of one currency against another. For example, EUR/USD 1.3000 means that 1 EUR costs 1.3 USD.

Besides, there are less popular currency pairs that can also be used for speculative trades. Speculation is the core principle of profiting from Forex — buy low, sell high. For example, if you buy EUR/USD today at one price and sell it 6 months later for a higher price, you will earn a profit.
In order to become a trader and start trading in Forex, you should choose a broker and download MetaTrader 4 for free. The broker provides access to the market, while the trading platform allows you to analyze quotes and perform trades. Before applying to a broker for a live account, you may first want to open a demo account in MetaTrader 4 and trade virtual money to better understand the basic concepts of Forex trading.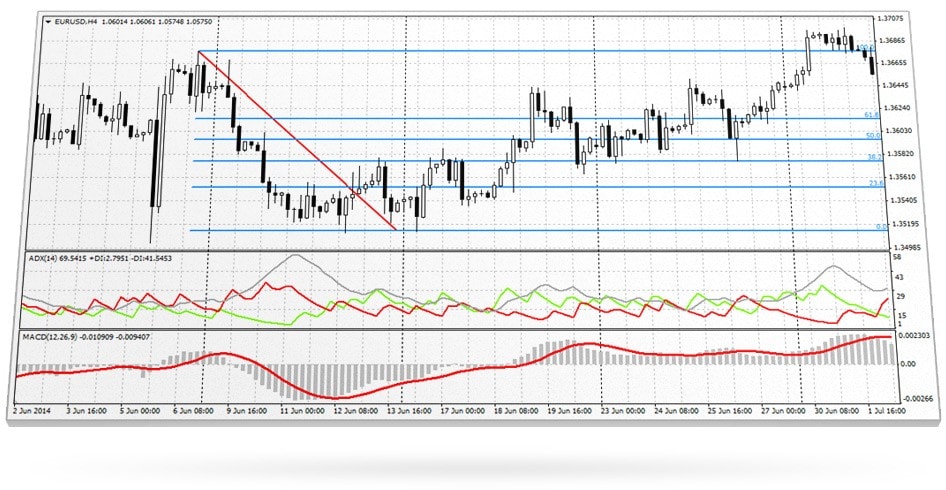 Technical analysis tools (various analytical objects and technical indicators) are used to forecast quote movement directions. The efficiency, accuracy and reliability of analytical algorithms and tools may vary due to market conditions. For example, trend indicators are most effective during strong price movements.
Trading operations in Forex are performed using market or pending orders. The orders are trade requests to perform a trade immediately or upon meeting a certain condition. These requests are sent to your broker.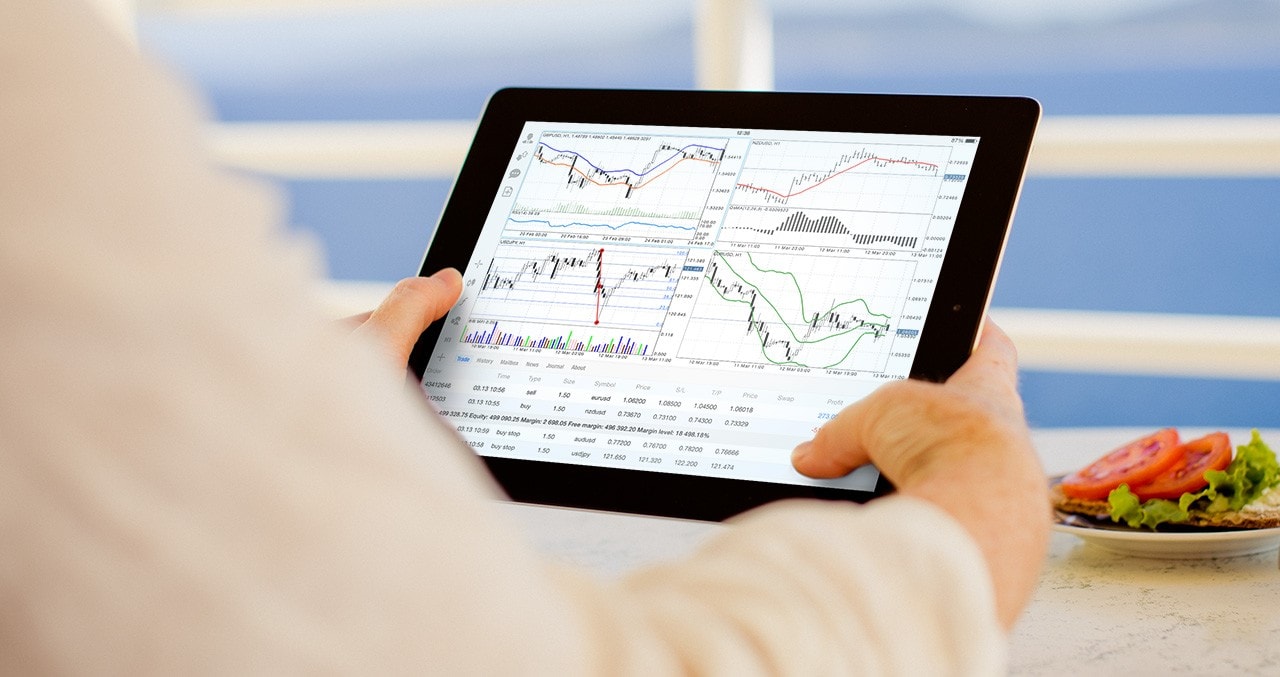 Mobile trading allows you to analyze markets and trade the same way as when working via the desktop version. The only difference is that trading is performed using a smartphone or tablet from anywhere in the world.
Algorithmic trading fully automates the analysis and trade orders, completely freeing traders from the routine work. Traders formalize their trading strategies turning them into trading robots that trade automatically!
By offering so many great opportunities, MetaTrader 4 has become the most popular Forex platform. Download the platform, open a demo account and try it!