The Forex technical analysis is based on the detection of certain trends and patterns, consisting of typical figures or shapes formed on symbol charts. Various technical analysis tools use identified trends to make forecasts on future exchange rate changes, define market entry and exit points and set Stop Loss and Take Profit levels.
Make informed decisions
MetaTrader 4 technical analysis tools comprise of 30 built-in indicators, over 2 000 free custom indicators and 700 paid ones, allowing you to analyze the market of any level of complexity.
MetaTrader 4 offers 24 analytical objects: lines, channels, the Gann and Fibonacci tools, shapes and arrows. With these tools, you can forecast the future price dynamics. Objects can be manually applied both to charts and indicator windows.
Forecast the price direction, detect various trends and set support/resistance levels — the MetaTrader 4 trading platform has everything you need!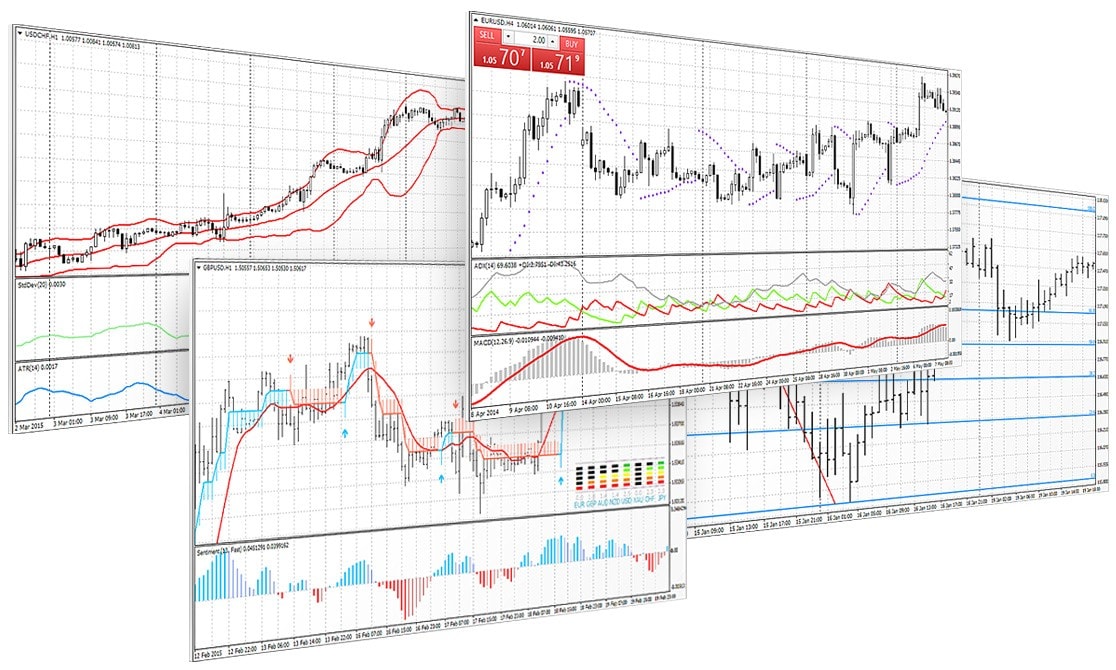 9 timeframes and unlimited number of charts
Each symbol can be displayed in 9 timeframes — from one minute (M1) up to a monthly one (MN). This allows traders to see the quote dynamics in detail and combine technical indicators and graphical objects on various periods of a single symbol. For example, after building a trend line on the daily period, you will see it on M15 as well, thus being aware of the longer-term trend. This will allow you to assess the current market situation more accurately reducing the influence of the human factor in decision making and turning your Forex trading into a more systematized activity.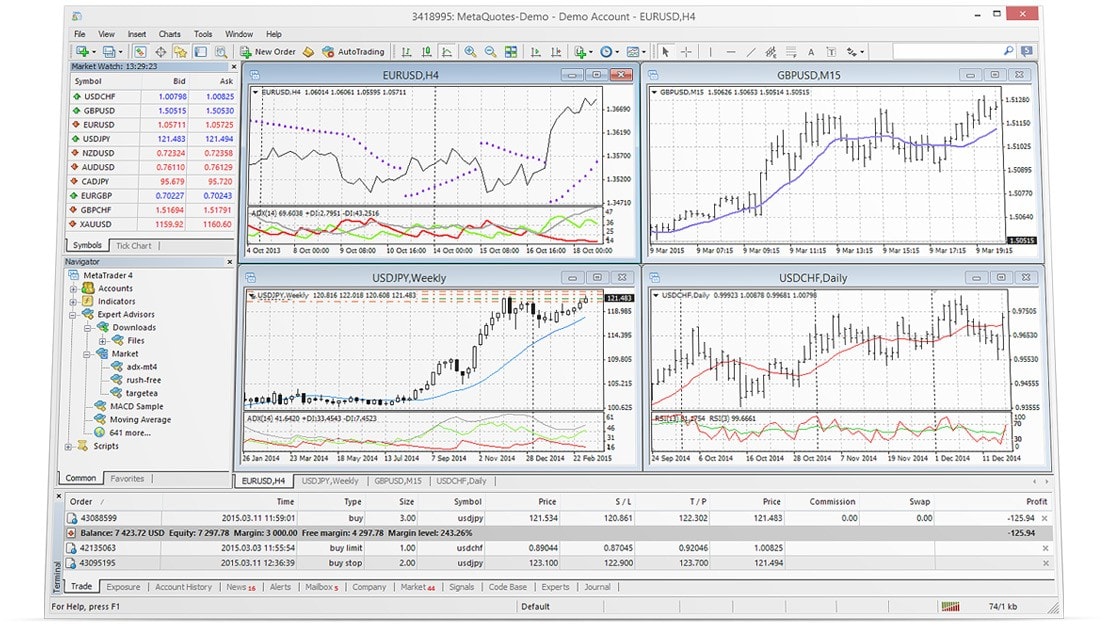 You can simultaneously open an unlimited number of charts, customize their appearance and apply various graphical objects and indicators to them. All charts are interactive, and you can zoom and scroll through them in real time.
Download an indicator in the market or order it from freelance
30 built-in indicators are only the beginning. You can write your own indicator in MQL4 or download any of the 2 000 indicators from the free Code Base. Still not enough? Then search among the seven hundred paid applications in the Market. Have not found a suitable one? Use the Freelance service and receive your personal technical indicator programmed by an experienced developer.