Registering Server
To receive a virtual terminal, connect by the appropriate trading account, open the context window of the Navigator and execute

"Register a Virtual Server" command.
Watch video: How to Rent A Virtual Platform

Detailed how-to description that will help to rent a virtual hosting directly from a trading platform. Its simple: choose nearest server and payment plan in order to let your robots and signals work for 24 hours a day.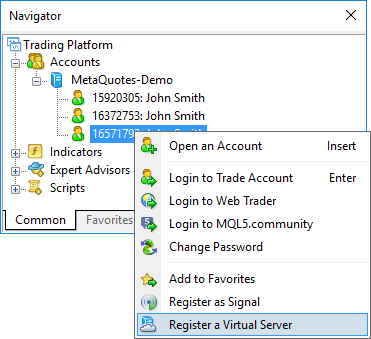 The Virtual Hosting wizard will automatically select the server that is closest to your broker. In the wizard window, you will see how ping (network latency) will decree compared to your current connection. Lower network latency between your platform and the broker's server provides better condition for the execution of trading operations, such as reduced slippage and probability of getting re-quotes.
Select the appropriate plan and click "Next". Service plan conditions are defined by hosting companies.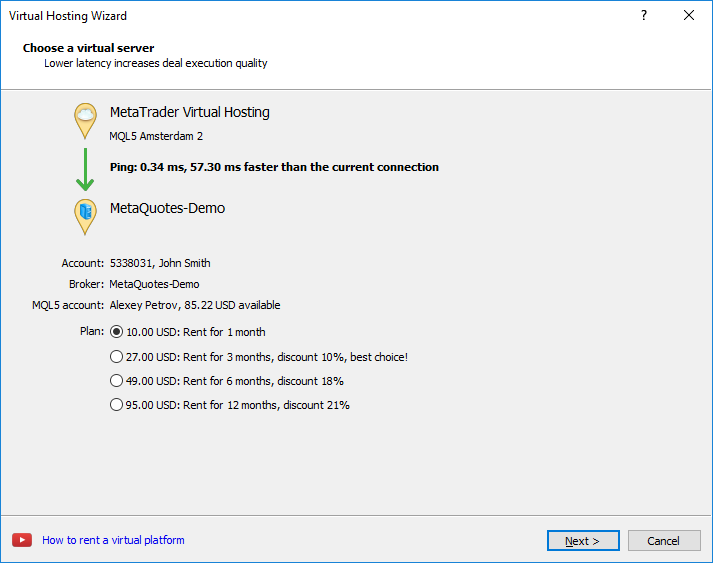 You can change the selected service plan after the rental period expires.
If your MQL5 account is not specified in the trading platform settings, the Virtual Hosting wizard will prompt you to add one. In order to rent a virtual platform, you need to have a valid MQL5.community account. You can register account right away if you do not have any.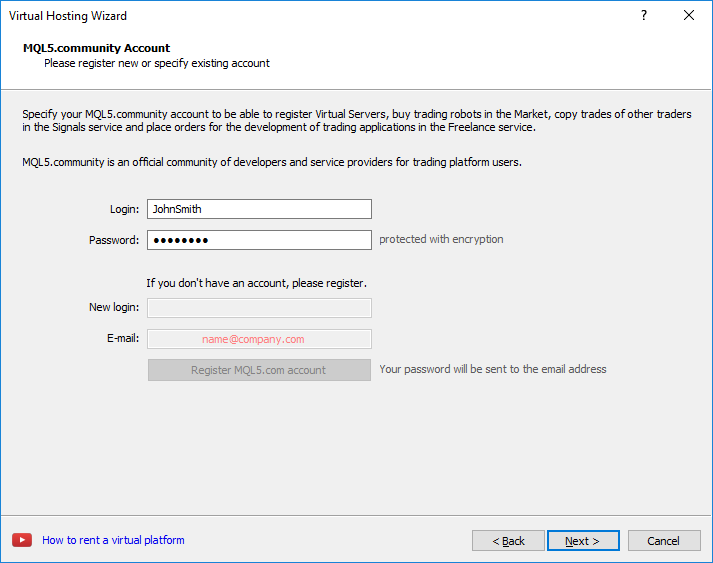 Click "Next" and check all the data: the trading account, for which you are going to rent a virtual hosting, as well as the cost of subscription.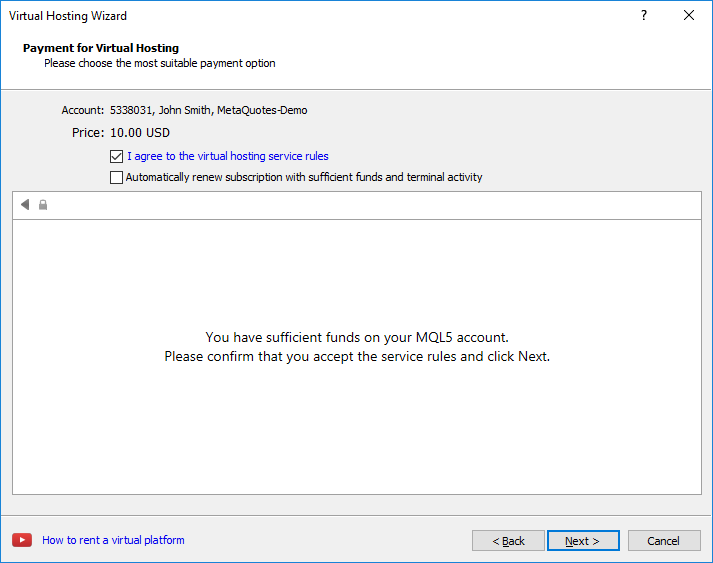 To continue, you should agree with the Virtual Hosting service rules. Read them carefully.
If you want the rental period to be renewed after its expiration with the same service plan, enable the option "Automatically renew subscription with sufficient funds and terminal activity". The renewal can be performed only if there are enough funds on your MQL5.community account to pay for the rent and the rented server is running.
After clicking Next, the server rent process is finished and the appropriate payment is deducted from your account.
If the rent is canceled by a user, no refund is made.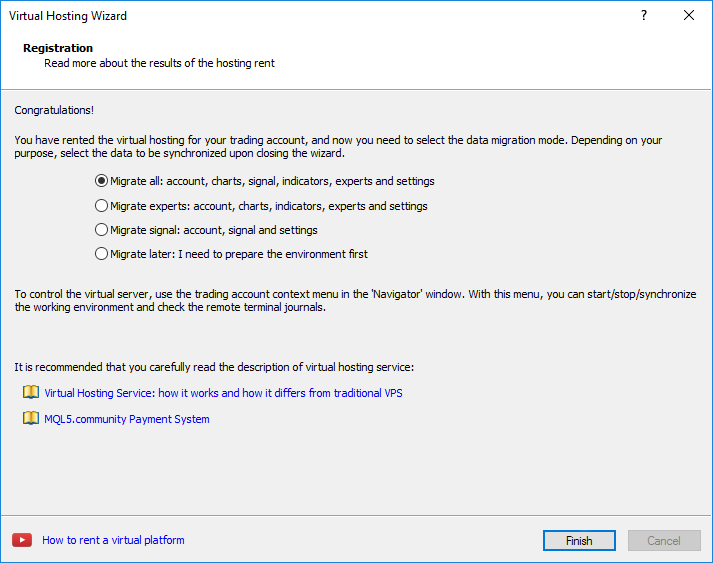 You can move the terminal environment to the virtual server immediately. Select the necessary migration type and click "Migrate now". If the terminal is not prepared yet, click Finish to perform migration later.
Paying for Virtual Hosting straight from the Payment Systems #
If you do not have enough money on your MQL5.community account to pay for the hosting, you do not need to go to the website and fund it. You can pay for the hosting straight from one of the payment systems. Just click "Next" after choosing the rent plan. Then choose a suitable payment system.
To maintain a clear and unified history of rented virtual hosting platforms, the required amount will be transferred to your MQL5.community account first, from which a payment for the service will be made. You can easily access and review all your payments from your MQL5.community Profile.
After paying you will pass to the last step of renting where you can perform the migration right away.