MetaQuotes Software to participate at MEFTECH 2017
MetaQuotes Software will showcase its latest MetaTrader 5 developments at the MEFTECH exhibition which is devoted to innovations in the financial services industry. The event will take place at the Abu Dhabi National Exhibition Centre on March 13-14. MEFTECH 2017 is expected to gather over 200 participants.
At the exhibition, we will be showcasing the development of the MetaTrader 5 trading platform and its entire ecosystem. We will pay particular attention to the updated mobile applications and the web platform, the improved Virtual Hosting service providing the best conditions for uninterrupted trading, and the brand new MQL5 Coupons service that enables brokers to support traders who pay for built-in services in the MetaTrader platforms. In addition, we will be looking for cooperation with third-party developers: the market of institutional solutions for MetaTrader 5 is growing by leaps and bounds, while brokers migrating to the new platform are interested in your developments.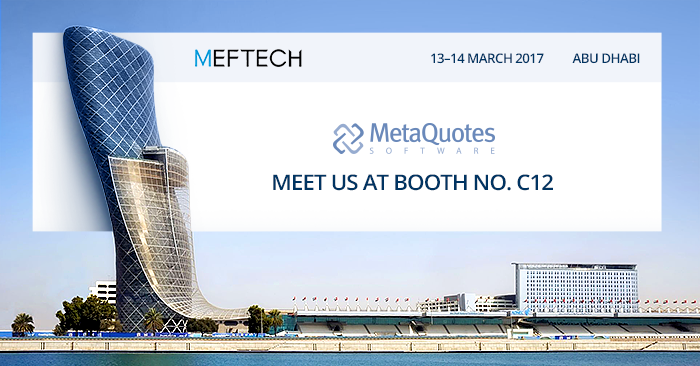 Abu Dhabi is one of the leading investment centers of the MENA region (Middle East and North Africa). Therefore, participation at the largest fintech event that convenes leaders of the local financial sector is of strategic importance for our company. Middle East brokers and banks interested in expanding their product lines and entering new markets, can find all the necessary information at our booth.
We invite everyone to visit our booth number C12. This is a great opportunity to experience our latest developments and find out all the details. See you at the event!‌
MEFTECH 2017
March 13-14, 2017
Abu Dhabi National Exhibition Centre (ADNEC)